EAT: WIAW Same old, same old...
Time for another
What I Ate Wednesday
post! I've only done
one
other before... The problem with any WIAW post of mine is that they'd all probably end up looking pretty much the same, changing up maybe only every season... conveniently, my constance means when I forget to take pictures, I can just recycle some old ones.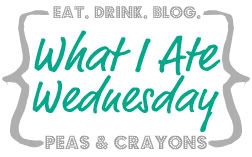 Breakfast:
My favourite
Green Smoothie
(note the obvious photo recycling thanks to the
dead giveaway of the Christmas table runner)
At this point, I've probably had this smoothie over 500 times in my life considering it's been my go-to breakfast for a few years now. I would do something different, but I don't, because it's just so yummy.
Mid-Day Snack:
Raw
Granola Crunchies
These crunchies have also become my replacement cereal option since I went raw. I now cut the liquid sweetener all together from the recipe and just used pureed dates (dates and little bit of water to make it mixable). The batch I had today were the same as the recipe I just linked above, but without the spirulina and sunflower seeds.
For my daily dark chocolate fix, I also had a Cocoa Camino Dark Chocolate
mini
.
Dinner:
Collard Wraps with Thai Peanut Sauce
Late Night Snack:
These babies...
along with a small bowl of massaged kale salad! I don't know if it's the adrenaline, but I'm always
super
hungry when I come back from rehearsals!!!
So there you have it folk, another WIAW post from Eat Dance Live! Hope you had a food fabulous day too :) To end off, here's a picture of our kitty acting like a jungle king (the beauty of this pic is that I've had that necklace since I was a little kid and it was one of my favourites for dress up... think warrior princess?)